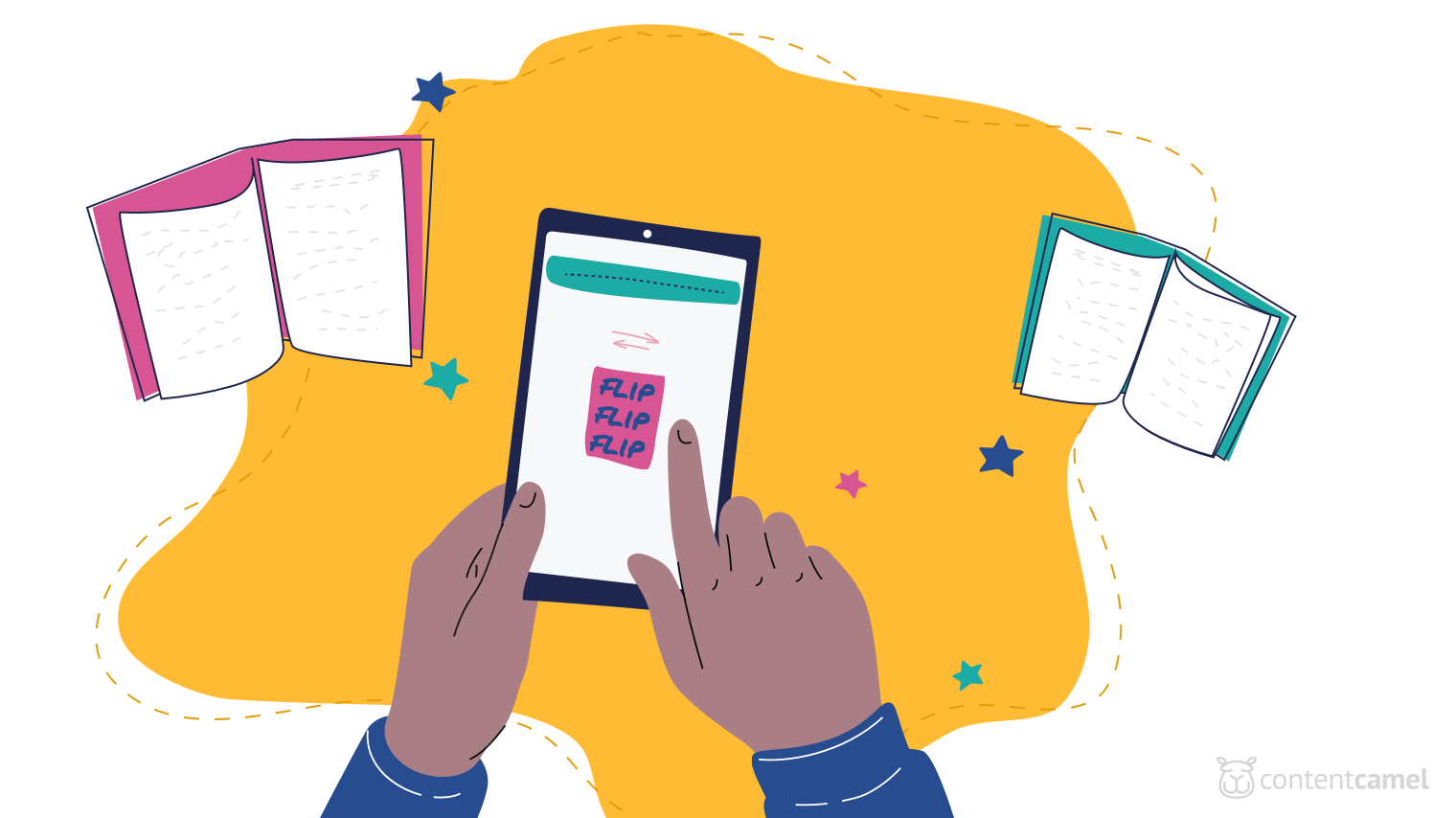 How to create a flipbook + TOP 5 flipbook tools
The best catalogs and brochures inspire the imagination, telling a story that engages potential customers at a different level than other sales materials. Think of a high-end jewelry catalog, with page after page showing exquisite craftsmanship and unexpected details. Maybe you are the sort of person who loves to page through an electronics catalog, inspired by the possibilities. Or recall the experience of flipping through a brochure for adventure travel, and how you began to imagine yourself as a participant in the story the catalog told.
The difficulty with a physical catalog, sometimes called a flipbook, is that potential clients flip through it, find no immediate way to take action, put it down, and walk away. Some companies have begun to develop digital flipbooks as an in-between solution for catalogues, brochures, annual reports, or other visual-intensive marketing material.
At first, we didn't think much of flipbooks and thought that for some businesses, a digital flipbook is probably not a good presentation tool 😜. The options for user interaction are limited, and, in some cases, unfamiliar navigation gestures could actually confuse some users.
But you know what? We've come around to the whole flipbooks thing. 📖
In a lot of cases, a digital flipbook – an html5 flipbook for the web – can offer a great presentation solution for your ebooks, brochures, and product catalogs. When done well, a flipbook offers the interactivity and immersiveness of the print catalog, but with the ability to learn about customer behavior in real time. Even better, it allows you to convert customer attention into action in a way a paper catalog or simple PDF can't. Below, we'll help you understand when to use flipbook software, give you some pointers for creating a really great flipbook online, and direct you to a few of the best tools to discover how to make a flipbook. Starting from a blank template or converting a PDF to a flipbook, we have you covered with tools to help.
How to make a great digital flipbook
If you're evaluating flipbook software and figuring out if it's a good resource for your business, consider your current sales and marketing materials.
First, where would such a tool fit in your existing marketing and sales stack?
Do you have an existing product catalog, brochure, or ebook that prospects and customers find valuable, but is locked away in a static PDF? If you haven't been able to capture a compelling story-telling effect already, a digital flipbook could help you bring the magic of your assets to customers' screens.
Often, organizations have large amounts of content that could be more effective when shared in a narrative way - like agencies looking to show their impact, manufacturers showcasing products in their catalog along with customer case studies, or investment funds interested in reporting their investment returns along with depictions of the social value of their investments. All of these could be good candidates for a digital flipbook.
If you are generating enough content for your audience that you are creating compelling case studies or other digital publications, those could also be turned into flipbooks. Users may be more at engaged with the page-turning UI of flipbooks when the content presented feels more alive. The advantage of presenting this kind of content in a digital flipbook, as opposed to a webpage, is that you have more control over users' navigation and can lead them through the content in the order you want.
Also, check in with your sales team. If they are regularly sending multi-page PDF documents to buyers or prospects, turning those PDFs into digital flipbooks can give your products or services a greater sense of polish, or transport buyers into an immersive world as they learn to use your products.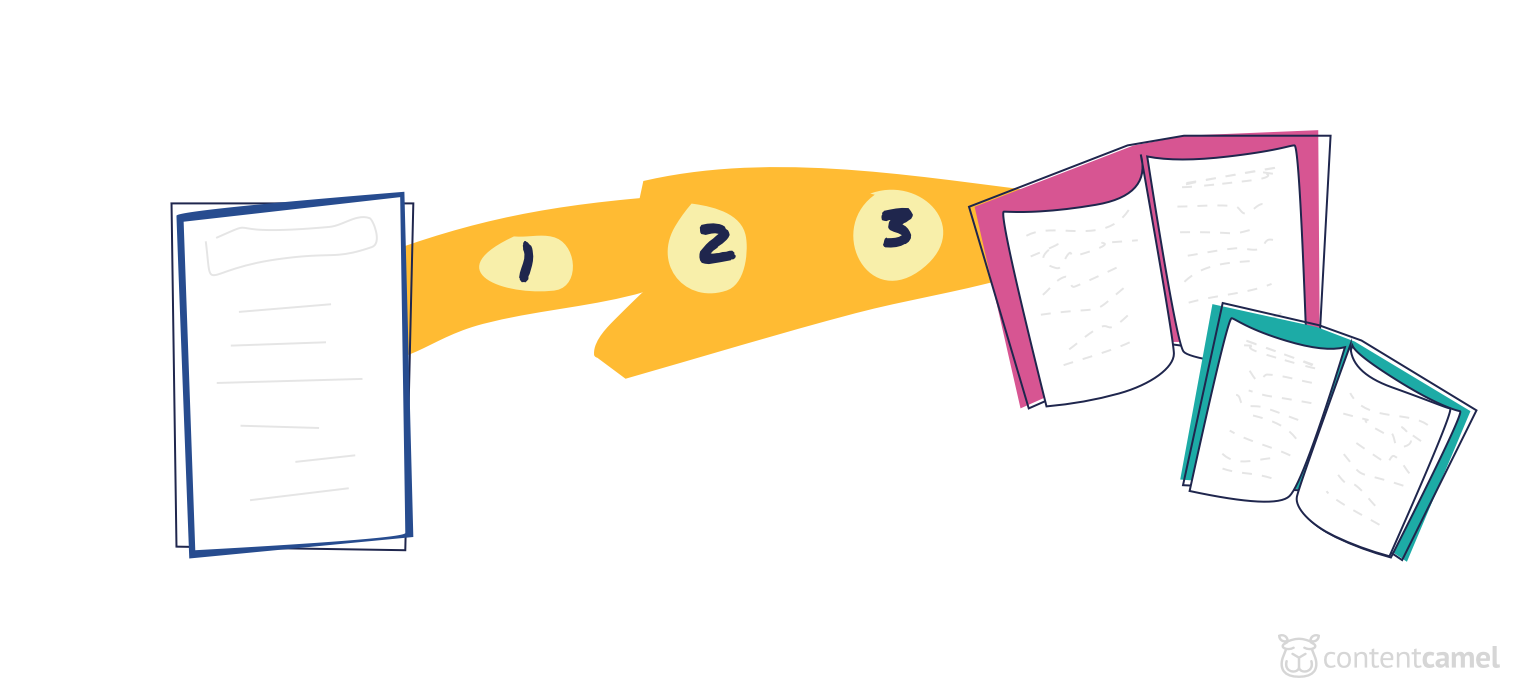 Steps to create the best flipbook online
1. Prioritize your content, products, and services
Decide what experience you are trying to create with this asset, and focus on the content that will contribute most directly to that experience.
2. Compose & curate quality content
A digital flipbook needs to be immersive and compelling to make the format work. Craft your content accordingly; this is the place for your very best copy, most beautiful images, and exclusive content. Even if you're building a manufacturing product catalog – think about how you can showcase product usage, customer case studies, and feature highlights.
3. Lay out pages strategically
For a sales one-pager, we organize content in a Z-pattern, ending with the call-to-action at the lower right. For a flipbook, the 'action' on most pages is just the 'flip' to the next page - consider how you're leading viewers to that action. Each page should build on the next and have a sense of flow. At the end, your 'call to action' should be just as thoughtfully placed as it would be in a one-pager.
4. Ensure consistent design
All your marketing assets and sales resources should be using consistent style guidelines, but when you have a single resource with multiple pages, many images, and various types of written copy, it is especially important to follow those standards exactly. Remember, again, that a great flipbook is one that immerses your customers in a specific vision. Typos, inconsistent fonts, or images with different backgrounds will break the spell and risk losing your customer's attention.
5. Use existing marketing collateral
While you do want your customer to stay focused while they're flipping, it's also a good opportunity to link out to some of your other sales and marketing resources. A flipbook might not contain a lot of technical detail, but providing links to technical sales materials on specific products is a great way to capitalize on the flipbook interaction. A comparison chart of different service plans could serve as a conclusion to the flipbook and a call to action. Don't overdo it, but provide a couple of pathways for customers to follow when they are done with the flipbook.
6. Distribute, share, and promote
Once you've created a resource that really represents the best you have to offer, get it out there! A great flipbook can really set you apart from competitors, and have a lasting impact on potential customers. If you invest in creating one, get it out where people can see it, and generate buzz to drive traffic to it. Share it on LinkedIn, embed it on your site, enable reps to send and track your flipbook shares, and create custom experiences for prospects with your flipbook as the focus.
7. Review performance and seek feedback
As with any marketing campaign, you need to know if your efforts are paying off. Share a draft version with your sales team or even with long-time customers to get their feedback. When you develop your initial buyer persona, create metrics that will let you see if you're reaching those targets. Continue to engage with your sales team to see what kind of responses they are getting in the field. This should be a piece that generates conversation!
Top tools for creating your flipbook online
A range of flipbook software makes it possible to quickly and easily convert your PDF into a flip book. The tools range from pretty simple to much more complex – from converting that PDF to fully designing a new flipbook.
Five of our favorites for creating innovative flipbooks: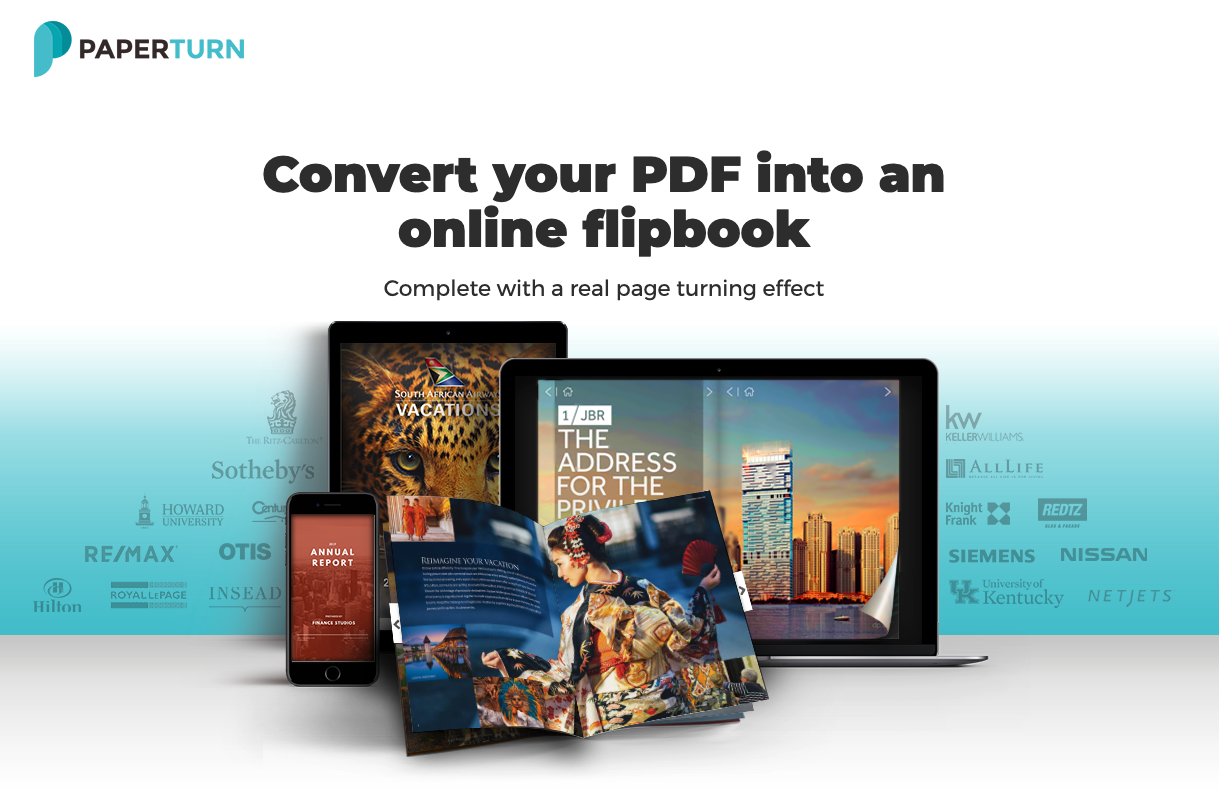 Paperturn - "Convert your PDF into an online flipbook, Complete with a real page turning effect"
One of the most trusted and sophisticated tools to convert your PDF catalog into an interactive digital flipbook. Its wide set of features allows it to be the most popular tool for flipbooks, and their blog offers helpful tips for creating a great digital flipbook.
Features include:
HTML 5 technology, making it responsive on virtually all devices.
Custom branding for a cohesive experience.
Integrated hyperlinks, videos, images etc.
Instant open - no download time needed.
Options to embed your flipbook on your website or in emails.
Updating and editing on a stable link - no need to send a new link when you make changes
Customizable privacy and security options.

Paperturn's most distinctive features have direct sales impact:
A unique feature allowing flipbook viewers to add items directly to their cart.
Performance statistics so you can measure your ROI.
Lead generation tool to collect and easily export users' information to your CRM or email marketing system.
Check out Paperturn here.
---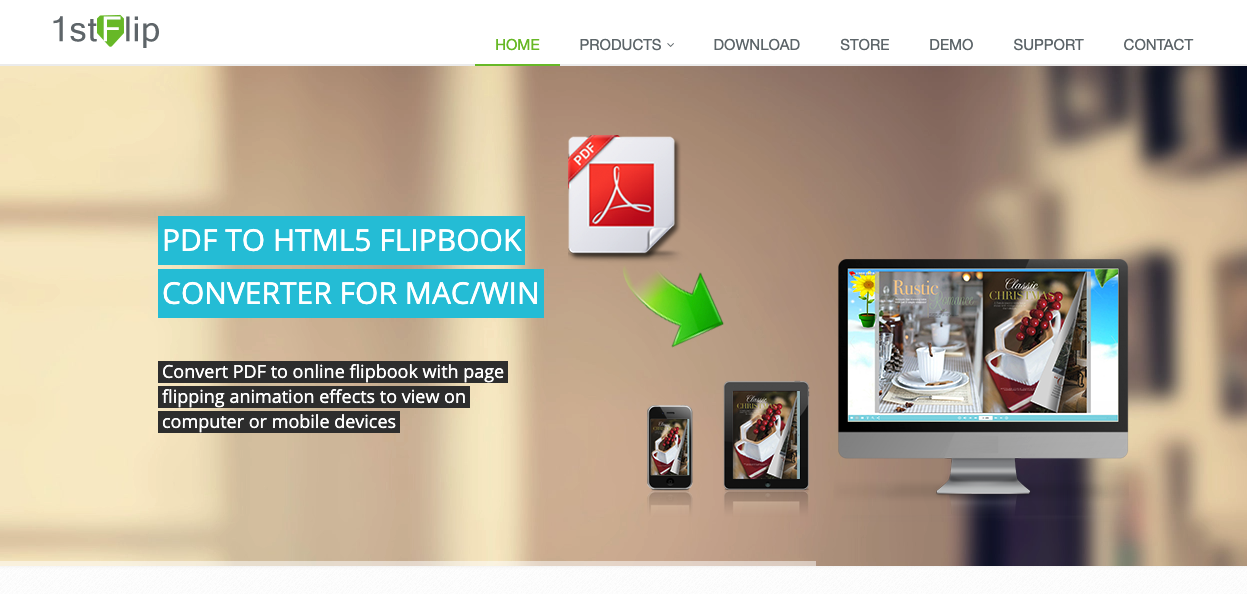 1stFlip
Used by major publishers and retail companies to deliver the high quality catalog experience customers expect.
Full featured, including:
Responsiveness on most modern devices and operating systems (HTML 5)
Cloud hosting option with 1stFlip Cloud
Instant upload & download with built-in FTP to allow easy hosting on your site
Exports in 4 formats: HTML, .zip, .exe and .app
Google Analytics integration
Embedded buttons, video, GIFs, music and more
Search functionality and navigable bookmarks inside your flipbook
Book Management tool for managing multiple flipbooks on one dashboard
Check out 1stFlip here.
---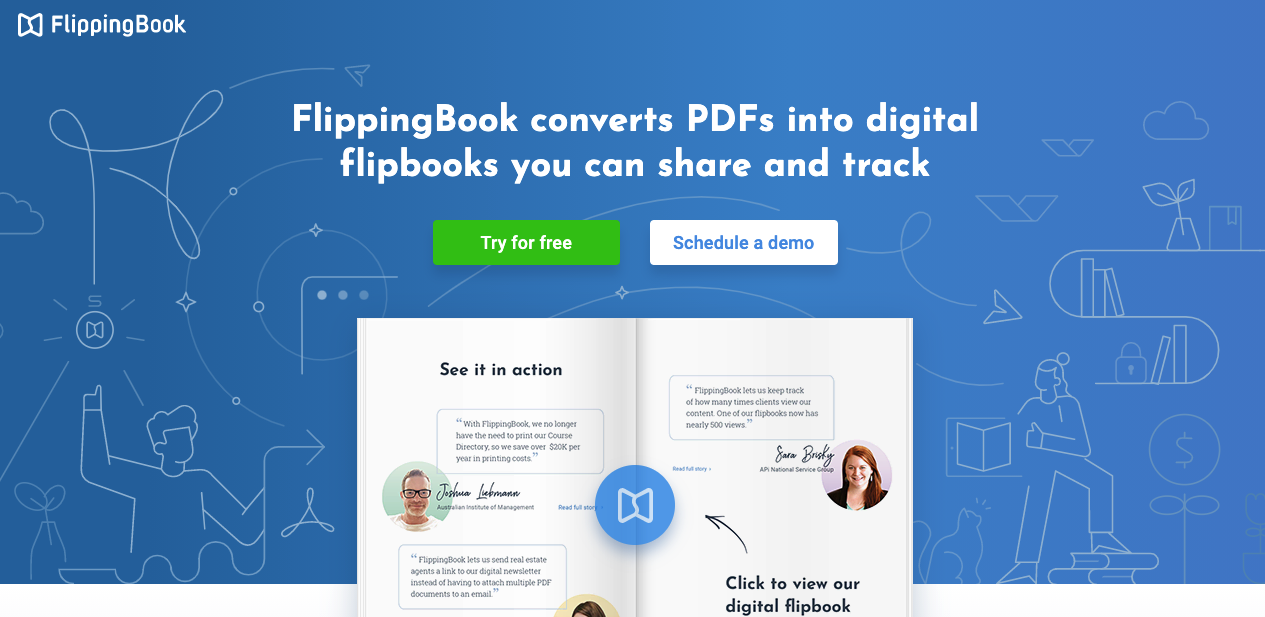 FlippingBook - "Convert PDFs into digital flipbooks you can share and track"
Flipping Book is a great tool customizable to the needs of a wide range of teams. It converts simple PDFs into fully interactive flipbooks or catalogues, with a good 'quick start' option, scaling up to meet much more complex needs.
Among the options:
SEO optimization - automatically tailoring your flipbook to get great search results
Tracking user interactions collectively and individually:

Track engagement by individual page & interactive element
Use trackable links to see who opens your flipbook, what they look at, and what they do next.

Zapier integration - individuals and teams can customize by connecting FlippingBook to other apps, such as CRMs, email apps and Slack.
Brandable elements including favicon, links, buttons and more,
Improved navigation with interactive table of contents, thumbnails, search functionality and notes
Multiple hosting options
Digital Bookshelf option - create an elegant presentation of multiple flipbooks in one place
Check out FlippingBook here.
---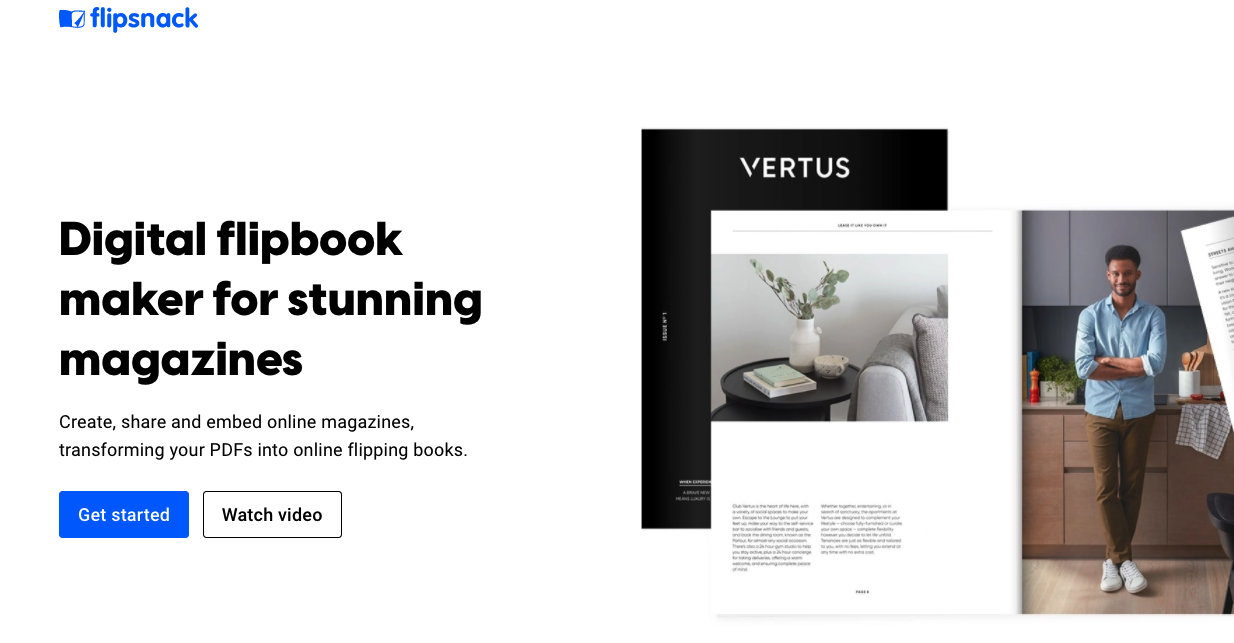 Flipsnack - "Digital flipbook make for stunning magazines"
Flipsnack offers many of the same features as the competitors above, but has some features that make it a great fit for businesses with an international presence, as well as some functionality that is especially good for periodical publications.
Among Flipsnack's features, it offers:
Collaborative workspaces where co-workers can comment and suggest edits
Automated catalog creation with a CSV upload
Design tools and templates to allow flipbook creation in the app
Single-page layout to allow better display of landscape images
Scheduled publication dates
Support for free 'preview' editions of subscriber-only publications
Stripe integration to allow in-catalog purchases or magazine subscriptions
Reverse page orientation for right-to-left languages
Language settings to customize the language of menus and tools
Learn more about Flipsnack here.
---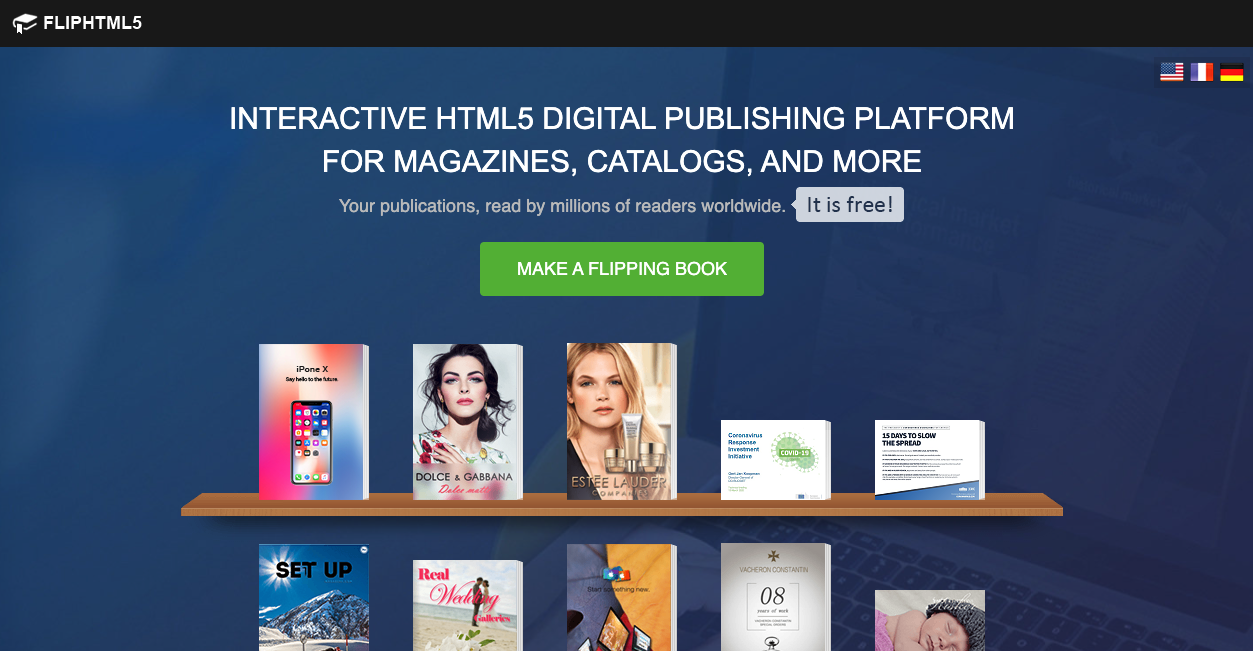 FlipHTML5 - "Interactive Html5 Digital Publishing Platform For Magazines, Catalogs, And More"
FlipHTML5 offers most of the same features as its competitors, but does so with a more flexible pricing structure and monetization options. For users who may not need all the features offered by some of the services above, FlipHTML5 could be a more cost-effective option.
Among the features it offers:
A range of themes and templates
Animation editor and page editor tools
Slide show mode
Native flipbook apps for iOS and Android to allow offline reading
Monetization with optional Google AdSense integration and ad banners
Wordpress, Drupal and Joomla plugins
Paypal integration for subscriptions
See more about FlipHTML5 here.
Use Your Digital Flipbook To Build Your Brand
Digital catalogs and flipbooks are a unique resource for sales and marketing teams. Without the cost constraints of printing and distributing a physical catalog, your team can focus on what they do best. At low cost, you can deliver compelling content to create urgency and preference for your potential buyers, and get the data you need to engage with clients and drive sales. You can move beyond static PDFs.
The wide array of digital flipbook examples shows there is not a one-size-fits-all approach to this medium. And, for some assets, it's not a fit at all. If your product positioning and messaging are a good fit for digital flipbooks, though, the tools above make it easy to create something distinctive. Put in the time to carefully refine your materials, then get your impressive new resource out where potential customers can see it 📖.
Looking to keep all your marketing content in one place, ready for sales? start a FREE trial of Content Camel now.